Strong voice for conservation in the Chehalis Basin
Posted October 6th, 2016
Submitted by Paul Dunn for the Chehalis Basin Lead Entity
Chat with Janet Strong for a bit, and your mind's eye imagines beforehand what your actual sight now confirms.
Looking like the proverbial bump on a log, Strong is perched on the horizontal, above-ground root of a massive hemlock tree. The stately conifer is one of eight different species of trees on the 9-acre paradise in McCleary that she calls home.
Strong appears as serene as the tree is strong — her resting spot the natural choice of a woman who relishes her surroundings.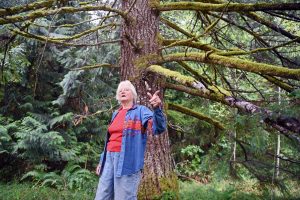 "I come out here a lot to this 'bench' to sit," she says. "It's peaceful here."
The fact, however, that Strong can find serenity in her day-to-day life belies the fire that burns within. That flame alights her passion to protect and preserve, to leave behind for generations to come the wonders of nature she so admires.
You may have guessed by now: Strong is an avid environmentalist — in the true sense of the word. For 22 years she has been an integral member of the Chehalis River Basin Land Trust, a non-profit organization formed in 1994 to help preserve natural lands in the Chehalis River Basin.
Strong headed the Trust as president from 1998 to 2014. Now's she's treasurer — and at age 76 still champing at the bit to get things done.
She's uniquely qualified to fulfill her goals, said Jan Robinson, current Chehalis River Basin Land Trust president.
"I think her enthusiasm for natural places — whether it's a bog, wetland, forest or waterway — is one of her greatest strengths," said Robinson, 70. "She always finds something beautiful and outstanding about the land the Trust is considering. She's just in the moment every time she sees a natural area and instinctively knows what is unique and lovely and beautiful about it."
And she's just as comfortable around people, Robinson added.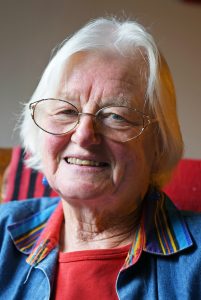 "Most of that success has been because of her ability to partner with other organizations like the Grays Harbor Audubon Society," Robinson explained. "She can empathize with people and especially landowners, because as a landowner herself she understands where they are coming from in regards to their love of the land."
What propelled her to her own land in McCleary — where she's lived for 32 years — is a tale of fortuitous opportunities and a desire to explore.
Strong was born in Pittsburgh, Pa., in what she describes as "a dirty, ugly, steel town that later developed into a marvelous city with museums and plays and lots to offer." She didn't see any of this until later, though, because her parents moved to Steubenville, Ohio, when she was but a month old. They would live there for the next 10 years.
The family then moved from Ohio to Silver Spring, Md., and from there the now college-aged Strong took off for Saint Louis, where from 1958 to 1962 she attended Saint Louis University — earning a degree in biology with minors in chemistry, philosophy and psychology.
"It's a Jesuit school, so I was forced to minor in philosophy," Strong said.
Three years later she met Jim Strong, her husband-to-be, who happened along just as she was taking graduate classes at the University of Tennessee in Knoxville.
So true to the adage that love conquers all, she dropped out of the grad program and the two married. Meanwhile, Jim was completing his master's degree in chemistry, and Janet — who had been a pre-med major at Saint Louis University — took a job as a night lab technician at the University of Tennessee hospital.
"I enjoyed the work, and I could always get a job because hospital lab techs are very employable," she said.
After a couple of years in Battle Creek, Mich., where the couple had settled after Tennessee, they decided to move closer to their aging parents and ended up in Butler, Pa. They lived in Butler for the next 16 years, where they raised four children before leaving in 1984.
Toward the end of the family's tenure in Butler, Janet Strong attended nearby Slippery Rock University and earned a master's degree in biology with an emphasis on ecology.
"I love biology," she said, "so I took all the classes I could possibly cram in."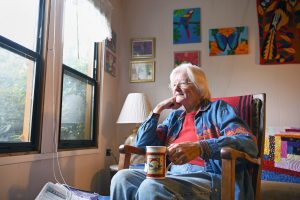 About this time, the Strongs decided Pennsylvania was getting a bit too congested, so they turned their attention to the Pacific Northwest where they felt they could thrive amid the area's natural beauty.
Jim found a job first ("He always found jobs first," Strong said) — teaching chemistry at South Puget Sound Community College. Strong figured she'd land a job soon after, but it wasn't to be — even with her science degrees and ecological bent.
"I thought it would be easy to get a job out here, what with all the natural areas, but it wasn't easy at all," she recalled.
But perseverance paid off, and she finally found a position in 1988 with the Washington Environmental Council — a non-profit, statewide organization dedicated to "protecting, restoring, and sustaining Washington's environment."
As a timber, fish and wildlife advocate, Strong worked closely with the state's Indian tribes, timber companies, environmental groups and government agencies to protect the public resources of wildlife, fish and water quality during forestry operations.
"It was a big consortium of people who worked together to develop better regulations for timber and forestry practices," she said. "It was a great job. I felt as though I'd gained another master's degree and learned so much about forestry, fisheries, wildlife, logging practices and geology in Washington. It's held me in good stead ever since, especially in regards to the land trust."
And in what was to be one of her most-cherished endeavors, Strong got involved in a project during her time with the environmental council to help preserve the South Nema Resources Conservation Area in Pacific County.
Logging was threatening the Conservation Area's old-growth forest, so Strong and her partners took the matter into their own hands.
"I worked really hard on that for two years, and we ended up getting it set aside," she said. "The Area has all kinds of biological treasures, and it was really worth all the work we did to save it."
Strong left the environmental council in 1991 when her work grant expired and soon after found a job with the state Department of Ecology as a water-quality specialist. She would stay there until 1995, working three of those years in the agency's Yakima office, but still keeping her home in McCleary.
In 1994, she decided to discontinue the across-state commute, took a leave of absence and eventually found work with the Nisqually Indian Tribe, where she stayed as a forest practices consultant until 2000.
Then finally in April 2000 she retired.  Sort of.
She was, of course, still president of the Chehalis River Basin Land Trust — so her time still wasn't completely her own. But that's the way she wanted it.
"I've loved making a difference environmentally and protecting habitat and land," she said of her long career. "I've been very passionate about nature since I was a little kid — climbing trees when I wasn't supposed to, lying on the grass and watching worms, all that sort of thing."
Her work with the Trust, she knew, would enable her to feed her environmental passion by helping protect land in the Chehalis River Basin — a goal close to her heart and home. There are basically three ways the Trust achieves that goal: by accepting land donations, by purchasing land — usually financed through grants — or by entering into "conservation easements."
Over the years, the Trust has relied on all of them.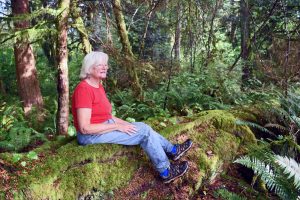 Conservation easements are legally binding agreements between the Trust and landowners who wish to see their raw property preserved into perpetuity. Easements generally detail what can't be done to the affected properties — sub-dividing the land or destroying wildlife habitat two typical restrictions.
"Most landowners have altruistic motives in setting up easements," Strong said. "They don't want to see their land sold and divided into housing sites, and they can accomplish this through these agreements. Landowners gain the satisfaction of knowing the land they worked so hard to conserve will be protected long after they are gone."
And in addition to conserving their land for future generations, landowners also frequently receive tax deductions by entering into easements.
To date, the Trust has easement compacts with several Chehalis Basin properties encompassing approximately 2,400 acres. It also owns other parcels of land with total area of about 1,600 acres.
Strong, too, is among the landowners who have easements on their properties. Seven acres of her 9-acre McCleary property is under easement protection through the Trust. Another 34 acres she owns on the east Hoquiam River is protected in that fashion, too — 10 acres through the Trust, the other 24 conserved through the Natural Resource Conservation Service.
And now — after all these years in the trenches — Strong wants more time to explore her own property and others like it.
"I want to do more traveling, more hiking, have fewer responsibilities and more time to explore," she said with a laugh.
She'd also love to see the Trust grow and become an even more significant entity in the Chehalis River Basin. "We need a bigger board, more members and more successful fundraising," she said of the Trust. "The Trust is very important, and we need to continue to protect the land in a high-quality manner."