Longtime Elma Farmer Nourishes Land and Wildlife
Posted December 6th, 2016
Submitted by Paul Dunn for Chehalis Basin Lead Entity
It's a wet, dreary mid-October morning as Jay Gordon, an Elma farmer, munches on a slice of oven-warm, homemade sourdough bread.
"Man, this is some good stuff," he says, turning to talk to his longtime friend Neal Lucht, who has driven from his home in Molalla, Oregon, to visit his old pal.
For Gordon, a sixth-generation farmer, the bread and friendly camaraderie might indeed be comforting him this morning — affording, at least, a brief pause in his otherwise hectic schedule.
In addition to maintaining a large working farm, Gordon also directs policy for the Washington State Dairy Federation, an organization that "works on policies to try and keep dairies prosperous and thriving." He has worked for the federation since 2001 and spent 14 years as its executive director, stepping down from that position recently "to get some new blood into the organization."
But his mind's on other things this morning as he watches the relentless downpour from the kitchen of his modest, two-story home. We understand on this morning in particular if the wise words of his deceased grandfather creep into his head: "Beware, get the harvest done before Columbus Day, because the Columbus Day storm was on Columbus Day."
Much to his chagrin, Gordon hasn't exactly followed that advice this year; he still has about 30 acres of corn left to cut. (The Columbus Day storm, incidentally, blew in on Oct. 12, 1962.)
"Yep, I can hear my grandfather chewing me out," Gordon says with a wry grin later that morning. "He's right; I just didn't get it done in time. You always think, 'if I'd just had one more day …'"
The fact that Gordon works like a dog to keep the longtime family farm in good stead is little consolation when he's about to lose $30,000 on a spoiled crop.
"Yeah, paying the bills is the most difficult part of farming," Gordon admits. "Because of the weather, you never know from season to season how things will work out. I have the vestiges of a typhoon raining on my corn right now."
Lucht can relate. The 56-year-old farms about 60 acres of land in greenhouses that produce vegetable seedlings for commercial Northwest agriculture. His farming operation routinely produces about 80 million seedlings a year from 300 different varieties of vegetables.
So he knows farming's challenges, and on this morning he has nothing but praise for Gordon, whom he met while the two attended Oregon State University together 37 years ago.
"Jay is stubbornly tenacious," Lucht says. "He has a tremendous giving heart and a need to help. Failure for him is just another opportunity."
Gordon, 55, has lived on the Highway 12 farm in Elma since 1979 when he was still a high school student. The farmland was homesteaded in 1872, the land deeded to his ancestors by then U.S. President Ulysses S. Grant. He and his wife Susan's four daughters — ranging in age from 22 to 29 — are the seventh generation of the Gordon family to be raised on the site.
"Yes, we have a little less than five more years, and the family will have 150 years on the farm," Gordon says, a note of well-deserved pride in his voice.
Gordon began what he calls his "twisted journey" to farming not long after graduating from college, when he got involved with the Sharon Grange in Oakville. From about 1983 until the mid-1990s he served as the grange's "master," a position that obligated him to run meetings, oversee fundraisers and generally keep the hall in good shape.
"It was a good training ground for learning how to run meetings, resolving disputes and putting on events — basic things every 25-year-old needs to know," Gordon explains.
His experience in the grange, a fraternal organization dating from the 1860s, would engender much of the life philosophy he holds today.
"The grange's theories and beliefs talk about being a good steward of the land, animals and livestock — learning good husbandry of those things on a farm," says Gordon. "And on the farm, I am a steward of a lot of things, including this ecosystem."
And that's exactly what Gordon's Elma operation is, an ecosystem. It not only nurtures about 450 acres of grass and alfalfa for feed and hay, 175 acres of corn, 20 acres of barley, a half acre of pumpkins and the rest for pasture grazing, it also nourishes a menagerie of wildlife.
Over the years, Gordon has counted about 120 different species of animals on the 600 acres of land the family owns and another 300 acres it rents. Sandhill cranes are the latest, most visible phenomenon on Gordon's fields, having made their first appearances about five years ago and numbering 72 this year.
"It's just fun to watch them jump up and down in the cornfields after they have been cut," Gordon says. "If you've never seen cranes dance, it's a sight to behold."
Gordon's seen plenty of other critters on the farm, too. They include bald and golden eagles, buzzards, hawks, falcons, trumpeter swans, geese, ducks, bears, cougars, coyotes, and in most years, salmon, which migrate up a three-quarter-mile stretch of the Chehalis River that bisects the southern edge of Gordon's property.
To help protect the salmon and wildlife on his land, Gordon has embarked on enhancement projects, including entering into a conservation easement with the Trumpeter Swan Society 10 years ago to preserve 55 acres of pastured wetland for the species. Gordon estimates that every winter from 50 to 400 Trumpeter swans roost on the wetland behind the farm's dairy.
"The swans really like that pasture," Gordon says.
Other environmental enhancements involve Gordon's dairy, which as of October 1 he began leasing to a couple of other dairy farmers who milk 150 cows. Add Gordon's 100 milk cows to the mix, and the herd becomes a potential threat to the surrounding environment.
So to keep the cows from despoiling the Chehalis River near which they typically graze, Gordon fenced off the entire riverbank in 2008 and again in 2009 after it was damaged during that year's flood. The fence prevents the cows from getting any closer than 50 to 150 feet from the river's edge, which in turn protects water quality and salmon habitat.
And with help from the state Department of Ecology and other agencies, Gordon helped plant trees along 400 yards of the land's riparian area near the river to help mitigate potential flooding.
"The trees still need to get taller, but they tend to calm and slow down the river so it doesn't come over the banks as a deluge," Gordon explains.
Chehalis River flooding has been among Gordon's focal points over the years, prompting him and others to participate in Governor Jay Inslee's Chehalis Basin Work Group.
Along with state agencies, the Chehalis River Basin Flood Authority, tribal communities and others, the work group, formed in 2012, has been advising Inslee on the best ways to reduce flood damage and restore aquatic species in the Chehalis River Basin. The task is enormous.
"We need to restore 109 miles of the river, and it's a bit daunting to turbo charge salmon runs in that much of the Chehalis River Basin," Gordon concedes. "Our goal is to get flooding down and fish up."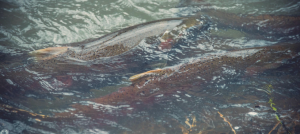 It's an environmental philosophy that seems to Gordon as natural as, say, butter and jam on fresh sourdough bread.
"Maybe this sounds trite, but it's really stewardship and husbandry," he says. "You have to take responsibility to care for the land and the critters who live on it."