Oakville resident transforms untamed pasture into lush oak savannah
Posted June 1st, 2017
Submitted by Paul Dunn for the Chehalis Basin Lead Entity
Oakville resident Sabra Noyes had little clue what was in store for her that morning in 2011 when she innocently attended Thurston County Prairie Appreciation Day.
But it was there, as it turned out, that she initially outlined her vision for the 40-acre pasture of riparian forest, prairie and oak savannah she had purchased a year before.
And so it was that after viewing displays of gorgeous native prairie plants in full bloom and talking to folks from a host of local environmental organizations, Noyes set out to transform her untamed land into a thriving, lush ecosystem.
And upon subsequently signing a conservation easement with the Chehalis River Basin Land Trust (CRBLT) in December 2016 she guaranteed her land would forever be conserved for generations of nature lovers to enjoy.
"I wanted this land protected so it wouldn't be subdivided into building parcels, and I don't want it overrun with big herds of cattle or horses that would eat it down to the dirt and destroy everything," Noyes said recently.
And that commitment to the sustainability of her land has made many people in the environmental community ecstatic, including past CRBLT president Janet Strong, who is still active in the organization.
"CRBLT is thrilled to partner with Sabra in promoting this rare habitat type and supporting the recovery of local endangered prairie species," Strong said. "The rarity of the habitat, the potential of helping endangered species and working with such an enthusiastic and committed landowner makes this easement attractive to everyone at CRBLT."
The 40-acre parcel — which includes a 3,100-square-foot house where Noyes resides — had just come on the market when Noyes viewed it in 2010. She was close to retiring from her job at the U.S. Navy Bangor Submarine Base in Silverdale back then — where she had worked for 25 years as deputy accountability officer — and had been scouting for a place to live for herself and her horses.
When she saw the Oakville land, her search ended. Even at first glance, Noyes knew the damaged acreage had potential. She could see through the clear-cut and past the "wall-to wall" fields of invasive 5-foot-high Canadian thistle.
What Noyes envisioned were revitalized pastureland, plant and animal habitats, woods and riparian zones. "The land was just so beautiful I decided to buy it," she recounted. "It had no abrupt cliffs so it would be safe for the horses and had a nice, rolling, undulating topography that I loved."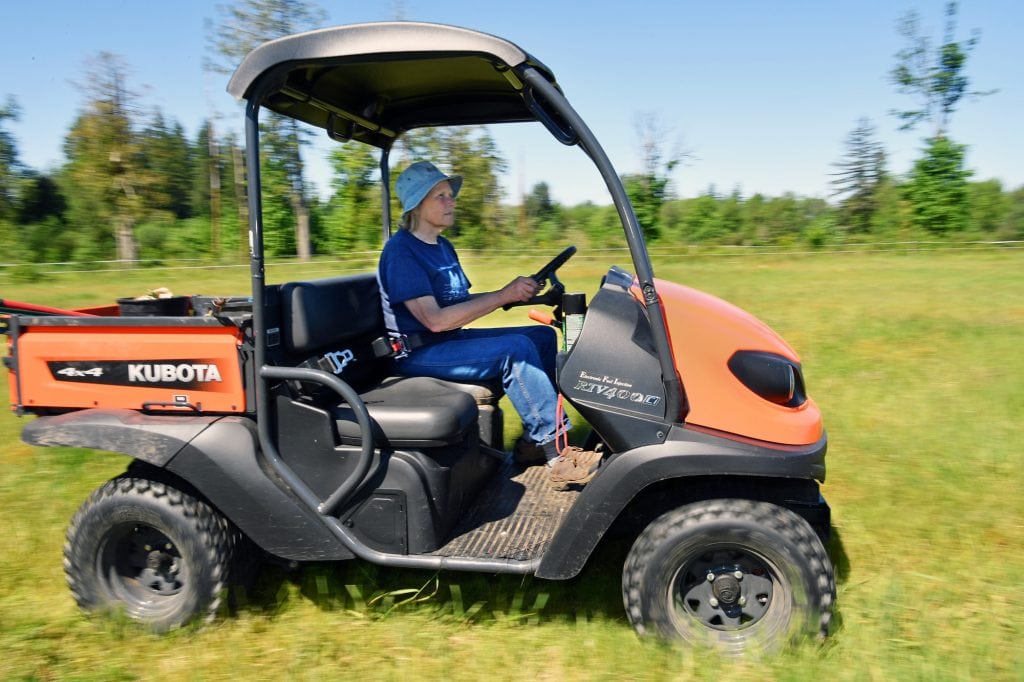 And as a bonus the land is located within the Black River floodplain with a portion of the Black River riparian forest at the southern edge. The river contains important salmon, bird and wildlife habitats in Thurston and Grays Harbor Counties.
So with all of this new and exciting work ahead of her, Noyes — who retired a year after purchasing the property — began seriously implementing her vision for the land.
Ensuing years of mowing, clearing, planting native trees, grasses and prairie vegetation and setting out bird and bat boxes eventually stimulated her land's young oak trees, prairie plants, native grasses and other species to prosper.
"With consistent and persistent effort, a little bit of time goes a long way in reshaping the habitat," Noyes said. "In addition, I didn't feel like I had to get the land transformed overnight, and thought, 'Hey, if it's going to take a while I'm cool with that.'"
Her efforts have not gone unnoticed: Throughout her restoration journey she has worked with such partners as the Natural Resource Conservation Service, the Grays Harbor Conservation District, the Washington Department of Fish and Wildlife and the Center for Natural Lands Management.
Susan Hoey Lees, a soil conservation technician with the Natural Resource Conservation Service, was impressed by Noyes' dedication to restoring the native ecosystems on her property.
The challenge, Lee explained, was exacerbated by the volume and persistence of the property's non-native plant species that typically "outcompete native species for the finite — and often limited — resources in a given space."
But with consistent and persistent effort, Noyes succeeded.
"Sabra's work on the property has made a significant amount of progress at reducing the invasive and non-invasive weeds and getting a rather difficult-to-establish native grass to start re-establishing on the prairies," Hoey Lees said.
And, as Hoey Lees explained, Noyes' personality and character matched perfectly with the work she was required to accomplish.
"Sabra is deeply compassionate and driven. It takes a lot of compassion for all living creatures and to have that coupled with a driven attitude to muster the energy — mental and physical — to take on restoration projects like Sabra's."
Though she's a native Washingtonian, Noyes took a rather circuitous path to reach her current station in life.
Born in Burlington, Wash., Noyes graduated from Central Washington College in 1972 with a bachelor's degree in archeology, and in 1976 earned a master's degree in primate behavior from the University of Kentucky. Post-graduate work in primate behavior followed at the University of Texas.
"I began my education in archeology, but to me it wasn't rigorous enough," Noyes recalled with a chuckle. "Primate studies allowed me to study evolution and be outside in the field. It was fascinating to study about and discover the intelligence and abilities of species other than humans."
Noyes subsequently ended up managing a primate research center in south Texas for three years that housed 350 Japanese macaques.
From there, Noyes journeyed back to Washington and began her career at Bangor, where as she says "I had to put my environmental activism on hold."
But that didn't stop her from staying abreast of environmental issues — particularly those concerned with climate change — which at that point were becoming increasingly prominent.
"I was always tuned into the bigger picture and became more and more pro active on making positive environmental changes happen and help protect the environment against climate change," she said.
And these days — when she's not toiling away on her property — she's still tuned into that bigger picture, though now it's a bit more localized. Noyes stays active by volunteering with organizations near and dear to her heart.
She's most active in two of them: Second Chance Dogs — a canine rescue operation based in McKenna that fosters and rehabilitates rescued dogs — and the Washington State Livestock Coalition in Rochester. The Coalition offers two $1,000 scholarships for higher education in agriculture-related fields and through direct assistance and educational seminars helps farmers and ranchers maintain healthy livestock herds.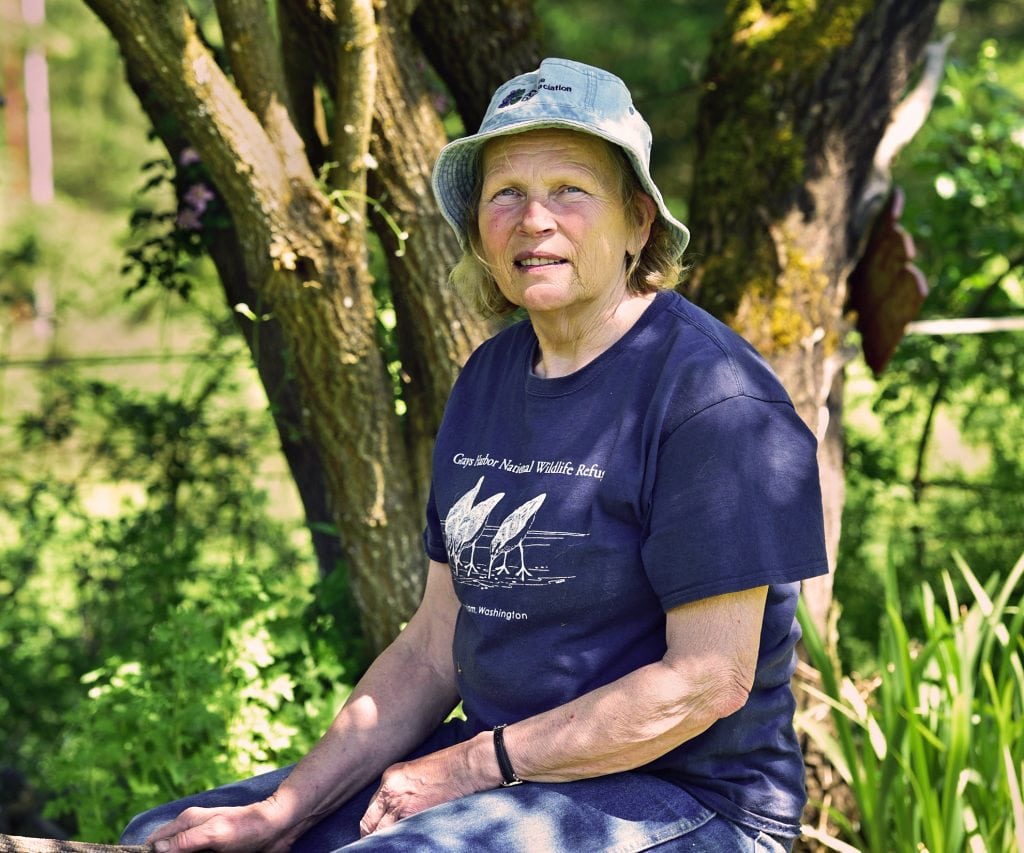 Likewise, Noyes strives to maintain and enhance the "herds" of critters on her own property. She routinely observes 40 different species of birds, coyotes, a black bear (once), elk, deer, and an array of small animals such as moles, shrews and field rats — and now wants to enhance the habitat for the property's amphibians and reptiles as well as the bees and other insects that live on her land. "They aren't the sexy species that people think about, but I try to give them a lot of attention, too," she said.
It's an ecosystem that at times brings Noyes to tears. "When I look across the property, there is such a feeling of well being," she explained. "It's just so beautiful to see all of these plants and animals thriving, and the whole interaction is just so important to the world."